It's not often we have a match preview less than 12 hours after the previous match but, like our fixture list of late, such analysis is coming thick and fast. Thankfully for some though, this will be the last such preview for a few months and after last night's disappointing home defeat to Motherwell, it very much looks like another year in the SPFL Championship for Rangers. Unfortunately, although last night's late Darren McGregor headed goal perhaps keeps us in the tie, it's difficult to see Rangers being able to win by the two or three goals required to keep promotion alive after 4.45pm on Sunday. For those hopes and the Rangers careers of several of the existing squad it's very much the last chance saloon.
Yet, last night, despite all the impressive counter-attacking play of Motherwell, it could have been so different. Rangers didn't play well but we created plenty chances and the Lanarkshire team didn't look comfortable at the back. Kenny Miller almost opened the scoring while both Nicky Clark and his name-sake Law should have opened our account in the first half. Even after half-time when we were expected to tire, we could have added to our late consolation with Motherwell goalkeeper George Long denying Boyd, Vuckic and even his own player Stephen McManus with three fine stops. To say Rangers could have scored five or six goals is no exaggeration so when both managers said the tie was far from over after the game they weren't patronising their fan-bases.
With that in mind, it may be Stuart McCall takes once final chance to be more expansive in his outlook and really take the game to the home side on Sunday. In that respect, it wouldn't surprise me to see us start the match with essentially the same side that finished it last night. Certainly younger lads like Tom Walsh and Shane Ferguson certainly did enough to retain their place while Kris Boyd lead the line better than Nicky Clark.
Starting in defence then, when Marius Zaliukas was taken off last night, the defence had a rather strange outlook with Foster and Wallace either side of McGregor. I was certainly worried that 'Well would cause us trouble on the break but we actually looked more comfortable than we had earlier in the game so perhaps such a three man unit isn't the worst idea for Sunday given the attacking outlook we must employ. Unfortunately, McGregor is obviously suspended so that means a straight choice of Zaliukas, McCulloch and Mohsni for the lone centre-half role. Zaliukas has done well lately but struggled against Erwin last night so a last-ever Rangers start for the club captain is perhaps probable. The pace of Foster and Wallace will certainly help cover and given their poor efforts going forward last night, it's for the best they stay further back.
This takes us into a five man midfield and arguably the most positive aspect of the game last night was the contributions of Walsh and the on-loan Ferguson. Although neither did anything completely memorable, they certainly caused Motherwell to sit further back and their direct style helped create space in more central areas. Both are certainly preferable to relying of the afore-mentioned Foster and Wallace who continually gave the ball away in attacking areas. Meanwhile, moving inside, Andy Murdoch, Dean Shiels and Nicky Law all struggled last night also. Yes, all three attempted to get on the ball but their passing tempo was far too low and nowhere near incisive enough. Shiels also tired badly so while I'd retain Murdoch and Law, Ian Black should start on Sunday to provide a bit extra cover in deeper areas.
With so many chances missed last night, this leaves two very open spaces in attack and it's tricky to suggest the best pairing. For example, Clark works hard but clearly lacks the composure and first touch required to be a real threat. Miller was excellent in the first half but also faded badly after half-time. Boyd is clearly unfit but actually led the line quite well late on and was unlucky not to score as well. Finally, for all the flair of Haris Vuckic, he was largely anonymous last night and didn't affect the game until he moved up front. Generally though, we need to get the ball into the box and have a reliable striker on the end of such balls. For this reason alone, I feel Kris Boyd may also start his last game for Rangers and Vuckic may provide a more creative option alongside him.
Interestingly, and quite incredibly, out of this suggested first XI more than half the team are out of contract in the next few weeks. Richard Foster, Lee McCulloch, Ian Black and Kris Boyd will most probably join on-loan pair Shane Ferguson and Haris Vuckic in playing their last game for the club. Meanwhile, others such as Miller, Mohsni, Smith, Faure, Hutton, Daly, Simonsen, Robinson and McGregor all have their contracts running out. Out of those 15 players only McGregor is guaranteed a new contract having activated a playing clause within it - although his performances this season will have merited any extension and wage rise. However, having so many players out of contract means our squad will be decimated before pre-season starts and such bad planning is a damning indictment of recent club ownership and management. With around £100million in income wasted since our lower league journey began in 2012, there are few people associated with Rangers during that period that can consider themselves above criticism over their contribution.
In that sense, Sunday will prove judgement day for many players and, for some, it will indeed be the last chance saloon. Guys like Foster and Miller may be considered as experienced options for next year but, for the rest, it would be a surprise if they remained. This means huge changes in playing personnel and although some claim another year in the Championship will do us no harm, we're kidding ourselves on if that position wouldn't impact on the quality of player (and manager) we can attract. Dave King did suggest last week that our league position wouldn't affect the level of his investment but that hardly seems likely either and given the respective failures of the so-called SPL quality players signed since administration, perhaps such an outlook is foolhardly in any case. Certainly without the right footballing operation in place then, as we've seen from our efforts under McCoist, McDowall and even McCall, the chances of success are hardly a given and perhaps its this arrogant attitude we need to dispel more than anything else?
To conclude, Sunday may well decide what league we're in next season but win or lose, there are bigger battles ahead for this club. Fir Park may tell us who can be part of the army we require but the war of attrition at Rangers is far from finished yet. The problem is just how much more personnel and resources can we afford to lose and is there a general we can finally rely on...
Possible team (3-5-2)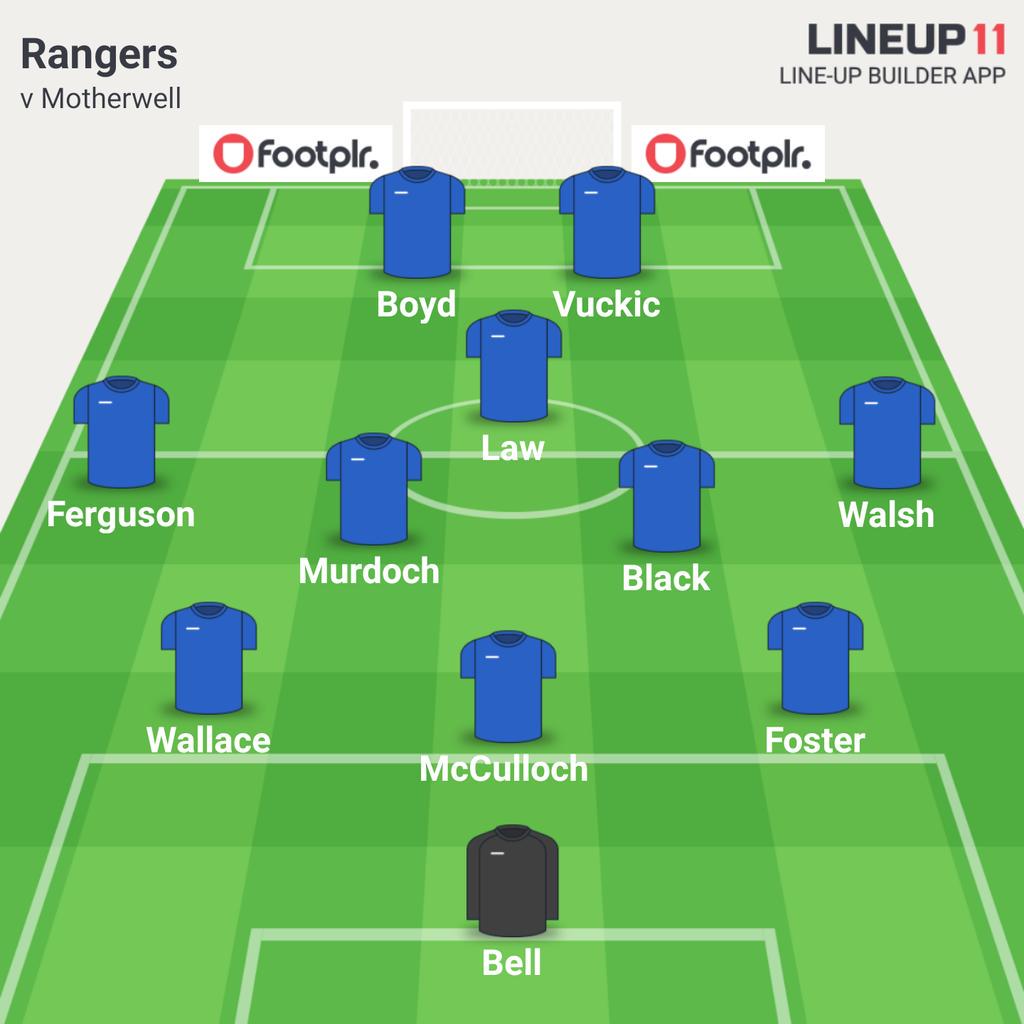 Discuss this article
Enjoyed this analysis? Disagree entirely? Found a spelling mistake? Whatever your opinion, it's welcome on our popular and friendly message-board.
Gersnet Forum - Latest Posts